So I took a break last night from blogging. Why? I was exhausted! Why? Because people suck. Thursday nights I do this volunteer legal thing where we help people being sued by credit card companies and collectors. We get a lot of visitors and our degree of service is VERY particular. Yet every week there a conversation like this:
Drunk guy who reeks of cigarettes: Yo can you help me?
Me: What is the problem?
Drunk: I am being sued by this schmuck for medical bills for when I punched him in the face at the bar
Me: I am very sorry but we can't help you. We only help with credit card debt.
Drunk: But you're an attorney! And I need a f----ng attorney!
Me: *sigh* [begins spiel] Attorneys are like doctors, we all have our own specialties. Some do criminal law, others do corporate, we do CREDIT CARD DEBT!
Drunk guy opens his mouth to say something rude, and at this point our 6 foot 4 volunteer comes over and asks if there is a problem. Drunk guy spits on the floor and leaves. And this happens EVERY SINGLE WEEK. And people get mad when they don't get seen even though we are volunteers, and we want to help, but can't. So yea, I was tired. So here is a Saturday post for you.
Lately I have been wearing 2 rings on one hand, on my pointer and middle fingers. Why? Because I like it =) I have been wanting a double-ring since I was like 16. Yes, waaaaay before Lauren Conrad made them popular. So I decided to see and here are some picks that caught my eye for one reason or another.
So badass!
buy
here
Classic shape. I'm sure you can get it engraved or something.
buy
here
My favorite! It is so dainty, and yet special somehow...LOVE
buy
here
A little weird, but this style would not impede your typing.
buy
here
or if you want something A LOT cheaper then buy
HERE
The Olsens can do no wrong as far as I am concerned! I just wish their stuff was cheaper.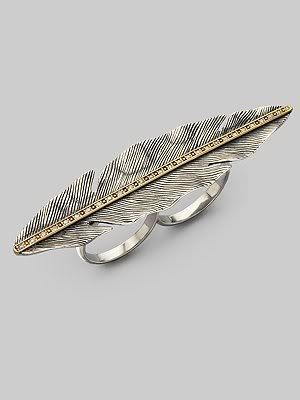 buy
here
Not quite a double ring but the talon goes over two fingers so it counts.
buy
here
Forget what I said earlier...THIS is my favorite!! So pretty and feminine, but still badass because it is a double ring. Kinda like my own little dirty secret...muahahahha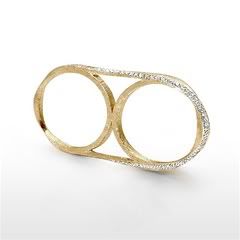 buy
here
And this one is just WoW, but so relevant because of the Drunk Guy story. And this is why you should read the words too and not just look at the pretty pictures.
buy
here