I have ADD when it comes to style...I love skulls and I love bows, I love studs and I love pearls...I love leather and I love taffeta. Well, you get the idea. The problem is that I do not have the budget for two separate wardrobes, so I try my best to incorporate both into my outfits, without leaning heavily into either direction. The best way to do that is through accessories. Just think - you start with your basic tee, jeans, and black high heeled boots. Add some pearls and a cocktail ring = sweet. Now if you add a studded cuff and a skull-ring instead = badass!
Today I am feeling extra girly so let me show you some bracelets with bows that I am currently craving. I promise there is one for every style and budget =)
My absolute favorite! I love everything...the ethereal feel, the beads, the colors...drool...the price? Not so much =(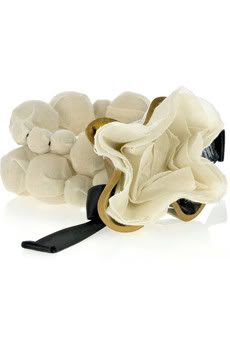 purchase here
This one is a more "in your face" bow. Very girly, but also a total statement piece. Do a smoky eye and some pink lips and you're good to go!
purchase here
Want something more elegant and understated? Here you go! Not too blingy or gaudy...adds just enough sparkle and sweetness without the frills. LOVE!
purchase here
Another favorite. I love baubles, I really do...I blame JCrew! This one is just a perfect mix of sparkles, bows, and pearls. Very girly, but oh so delicious at the same time. Definitely not badass, but not sugary sweet either...WANT!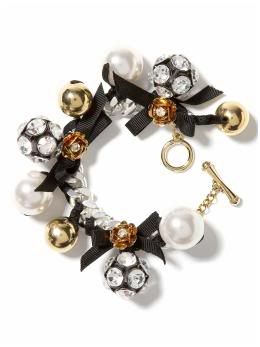 purchase here
Finally, another beauty that is more than my car payment, but this is definitely one badass bow! The chain and shiny jet-black base give it a gothic feel, while the swarowski crystal and satin bows give it just enough femininity to work for any occasion. * le sigh *
purchase here
[it is on sale now - 50% off!!]