Going on a date? Girls night out? Plans with Mom? Forced romantic dinner with your boyfriend/husband/bootycall? Whatever the plan you should look cute...why? well why not!! Also, this is the one time of the year when wearing red or pink dress is perfectly acceptable...in fact it is almost required! So leave your LBD on the hanger and embrace color...here are some cute options to get you started:
1. For a dinner at a five star restaurant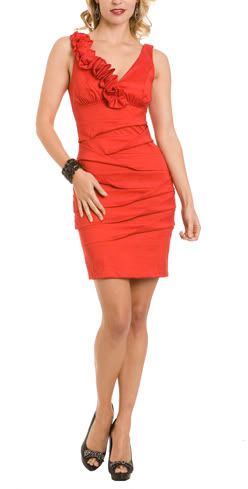 2. For a wine-tasting and a Broadway show
3. For drinks with your girls...or a casual date with that cute guy from class
4. For daytime...whether it is yoga or shopping for lingerie the spirit of V-Day is there =)
5. My personal favorite! And it is suitable for whatever plans you've made...yes, even lunch with Mom...
6. Still afraid of too much color? Then try a classic black dress with a red accent, such as this rose applique
all images from shopstyle.com
.
If you like any of my picks then go to style.com and get one for yourself. All of these are still available and are very affordable.
So do you have a dress/outfit picked out yet?? Yea, me neither =)