In honor of V-day I will be doing a 5-day bonanza with all things Valentines. Before I begin let's just talk about the holiday a little. Now, many think it is a Hallmark holiday that is cheesy and choose not to celebrate it. Frankly, I don't much care for the commercial aspect of it. Romance should be random, not planned and prepackaged in a red heart-shaped box. But, being as tacky as I am, I love hearts, I love pink and red things and I love chocolate. I also have a very personal reason for loving St. Valentine. My grandma, may she rest in peace, was named Valentina, after the saint. My cousin, who is the father of my godson, is also named Valentin. So the day has special significance for me. Therefore, I will enjoy the holiday in their name, literally and figuratively. And since this is my blog, you will enjoy it with me. So lets start with drinks!!
I was originally going to save it for last, but I had to drive to UPS to pick up a nailpolish package so I am sort of pressed for time. Therefore, I will leave the more in-depth posts for later, and start with what I know best =)
Even if you choose to shun the holiday, it falls on a Sunday, which is followed by a true holiday, so drinking will likely to happen. And in the spirit of tacky romance, there is no reason to not include red in your potent potables. At the very least it will be a nice change from beer, or dirty martinis. So as a courtesy of
cosmopolitan
, here are some V-Day themed recipes:
Kerasi (cherry in Greek)
- 2 oz. peach vodka
- 1 oz. cherry puree (just blend fresh pitted cherries)
- 1/2 oz. peach liqueur
- 1/2 oz. cherry brandy
- 1/2 oz. lemon juice
- Sparkling wine, like Cava
Shake all ingredients but the Cava over ice and strain into a flute. Top off with Cava. Garnish with a cherry.
Strawberry Kiss
- 1 1/2 oz. Absolut Vanilia
- 1/2 oz. strawberry liqueur
- Splash of CranPineapple juice
Combine ingredients and top with champagne. YUMmmm....champagne!
Watermelon Martini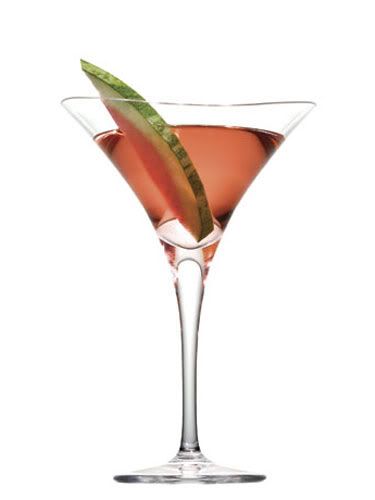 - 3 oz. Ketel One Citroen
- 1 oz. Watermelon Pucker
- 1/2 oz. Cointreau or triple sec
- Splash of lemonade
- Splash of 7-Up
Mix all ingredients together over ice, shake, and strain into a chilled martini glass. Garnish with a slice of watermelon.
Rediscovered Cherry Cosmo
2 oz. Smirnoff Black Cherry vodka
1 oz. white cranberry juice
3/4 oz. Cointreau
Splash of fresh lime juice
Combine all the ingredients in a shaker, and add ice. Shake and strain into a glass. Garnish with fresh or dried cherries.
Pink Margarita
1 1/2 oz. tequila
1/4 oz. Campari
1/2 oz. fresh lemon juice
1/2 oz. honey
Add all ingredients into a cocktail shaker with ice and shake vigorously. Pour into a tumbler. Serve on the rocks and garnish with a lemon slice and mint leaf.
pictures and recipes courtesy of cosmopolitan.com. Check them out for 11 more delicious recipes
.
I hope you try one of these, and please let me know if you do...or if you have any recipes of your own you'd like to share!! Especially mojitos!
But, please please please drink responsibly!