...for perfect at-home mani and pedi. I do my own manis and pedis at home. I do not have the time nor the money to go the salon lately. Also, I do a much better job than the salons anyway. Last time I got a pedi [March 2008?] I had to spend 30 minutes at home doing extra clean-up and refiling my toes into a perfect shape. Waste of time! [and money]. With a little practice and the right products you can do your own salon quality work.

Here is my routine step-by-step with product illustrations.

1. I take off old polish.

[Steps 2-4 are for pedis only, the rest applies to both pedis and manis.]

2. I soak my feet in a bucket with warm water and some monoi oil. I like the one by Yves Rocher.



3. I exfoliate with Yves Rocher foot exfoliator.



4. I dry my feet and use Ped Egg [$9.99 almost everywhere. I got mine at Bed Bath & Beyond]



5. I push back the cuticles gently with an orange stick. Twice a month I use Sally Hansen Instant Cuticle Remover. There are many varieties, but the one in the blue bottle is the best by far! Please use as directed. Leaving it on for too long can cause a slight burning sensation, but a little bit of warmth is normal.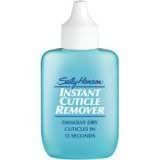 6. I swab each nail with a tiny bit of acetone to remove oils.

7. I file my nails into shape with a GLASS file. Please do not use regular files because they damage the nail and make it peel and split. My fave is the one from Sephora.




8. I put on base-coat. I'll be honest, I still have not found my Holy Grail basecoat, but I am certainly trying! Currently I am test-driving Barielle's Hydrating Ridgefiller, and so far I like it. However, since my nails are still recovering from that horror also known as Sally Hansen's Nail Quencher, I can't tell you how well the Barielle is working just yet. Once I figure it out I will do a full review. Barielle products are generally VERY pricey, but often can be found at Marshall's or TJ Maxx for $3-4.




9. Then I apply 2 coats of any nailpolish. No drying time between coats. Some of my fave brands are OPI, China Glaze, Essie, Zoya and Color Club. The cheapest to order then is online at 8ty8beauty.com, head2toebeauty.com, transdesign.com, and victoriasnailsupply.com. Zoya is only available at Zoya.com, but follow them on Twitter, they have great offers very often. These sites are tried and true and sell polish and most of the products I list here at a huge discount.

10. Next I use Revlon Colorstay top coat [on the right in pic.] They are sold in 2-packs with a color and the topcoat. I hate the colors and usually throw them out. I also buy only at Dollar Tree stores for $1. The old version is much better than the new one sold at drugstores. So if you see the old one I suggest you stock up. The purpose of this step is to prevent the polishing from shrinking at the tip when we apply the last product.




11. Then with no wait time I apply Seche Vite quick drying top coat. I know it seems like many layers of products, but Seche dries everything in under 10 minutes. I am not exaggerating, it is that fast! And it is very shiny and professional looking. The key here is to apply it to wet polish. It is VITAL! Seche was designed to be used specifically on wet polish. One time when I used it on dry polish it peeled off the next day. So please follow the instructions.




12. Lastly, after the polish is dry I put lotion on my feet/hands and cuticle oil on my fresh fingers or tootsies. My fave oil is Haken oil from Sally's, but I am sure any oil can be used.




TA-DA!! You're done =) Once the polish is dry you can clean up any mess with some remover and a cotton wrapped around an orange stick. Or you can wait till the next morning and scrub it off in the shower and it will easily come off.

During the week I also use Creative Cuticle Eraser twice a day on my cuticles. It is amazing at keeping your cuticles looking neat. The AHA in eraser gently exfoliates the cuticle and removes the dry raggedy pieces. Even if you get professional manis I suggest you invest in this product.




Once again, remember that the key is practice, and also finding products that work for you. The ones above are my favorites, but you may find that something else works better for you. Good Luck and always feel free to ask me if you have any questions.